Borge Mogensen and the master of every day's furniture
Before I worked in the furniture industry, not a typical 8-hour office job to be specific, I used to go to cafes a lot. And I normally looked at their furniture and thought "Hmm that's a nice sofa". Since I now work in the industry, I normally look at pieces and think "Hey I can name that". And since I am writing more blogs about furniture, my usual instant thought would be "Wait a minute, I've just seen this 5 times 5 minutes ago".
The little anecdote above is to walk you into what I am writing about today, Borge Mogensen, a name you've probably not very familiar with, but I am sure when I show you pictures of some of his designs, you must exclaim "Oh I know that chair". It is, to sum up how Borge Mogensen's designs have influenced and made a strong impact on the interior design world nowadays. 
We have sat on his chairs, his sofas without even noticing them. The talented designer has shaped our everyday lives, he designed from chairs to tables to cabinet systems that can solve everyday problems. 
Børge Mogensen, born in 1914, was one of Denmark's most influential designers. He was also in the same era with the other phenomenal designers that we have had the chance to meet in the previous blogs such as Arne Jacobsen (designer of the Egg Chair and Swan Chair) and Marcel Breuer (Wassily Chair). His design propositions were reflected in both his work and his home, with a tonal and simplistic style that compliments many modern homes today. He had a meticulous nature and an insatiable curiosity, leading him to tirelessly seek new and better solutions in his projects. Borge believed that furniture should create a sense of tranquillity and have a modest appearance that encouraged people to live their lives unpretentiously, influencing the production of countless iconic furniture items such as the Spanish Chair.
Probably functionality is best to describe Børge Mogensen's design. The majority of his furniture was designed with industrial production in mind and is characterized by strong and simple lines. Therefore, we are truly fortunate to have a chance to see most of his designs in everyday life now. His true genius is to be found in his almost scientific analysis of the functionality of a piece of furniture.  During his years at the Copenhagen School of Arts and Crafts, the young Børge Mogensen developed a close partnership with his mentor Kaare Klint and subsequently also assumed Klint's approach to simple and functional furniture design. Later on, Borge Mogensen was to work as Klint's teaching assistant at the Royal Academy.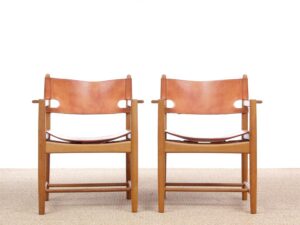 Borge Mogensen is another example of a Danish designer from the Mid-Century era whose focus on function over form made his furniture part of the classic "Danish Modern" milieu. His pieces had style, mind you, and were hardly basic. But they incorporated simple, stylish designs with a knack for functionality. "Visual clarity" was an important factor in Mogensen's work, as were minimal experimentation, sparse decoration, and an overall "democratic design."
A Fastidious Approach to Interior Design 
The works of Borge Mogensen are largely seen today as highly approachable, with inspiration from a variety of styles including Japanese art, world history, and global cultures & arts. He was also a contemporary of Hans Wegner and studied under the tutelage of Kaare Klint at the Royal Danish Academy of Fine Arts. Mogensen's meticulous, practically scientific approach to furniture can be seen in his many designs which are still on the market today.
There are three interior categories that are familiar with most: chair, table, and sofa.
Definitely Borge Mogensen's most unique chair. It was designed in 1950 for the autumn exhibition of the Copenhagen Cabinetmakers' Guild, and if you wonder why, the chair was named after that year's theme – 'The Hunting Lodge'. The chair is the combination of rustic and masculine aesthetic that Mogensen mastered later in other pieces such as the Spanish Chair. The eye-catching and dynamic design with a front seat edge height of just 30 cm is typical for the era. 
The Hunting Chair has an acute slope from the front seat to the backrest. Drawing inspiration from Spain's medieval Andalusian furniture, the designer constructed this chair to be logical and timeless.
Its idiosyncratic aesthetic was the product of Borge Mogensen's passion for visual tranquility and minimalist lines, strong structure, and organic materials. All these efforts were to bring out an added range of beauty and the design's durability. He believed that good furniture should be appreciated now and for years to come. On this performance-driven design, accented with Danish features the Hunting Chair has a decorative style that is a contemporary vintage piece perfect for private residents, restaurants, hotels, and various luxurious settings all over the world. 
The seat was constructed of sturdy, performance-grade saddle leather as a part of the wooden structure. The exposed wooden framing is of American walnut with eco-friendly oil-based stain for a natural, organic look. The seat is adjustable with solid brass buckles, and the chair is light enough for easy relocation.
Frame: American walnut.

Wood finish: Eco oil-based stain

Seating: Performance grade vintage leather.

Safety information: Each material is non-harmful, resistant to fire, and child friendly.
Mogensen's perfect sense of proportions and preference for candid materials is reflected in the 22 Collection. The three-seater 2213 embodies a sense of tranquility, with a modest appearance that doesn't compromise on construction and craftsmanship. The armrests curve upward towards the back, with ample seating space and leather artistry, this sofa donned the designer's own home in  1962. Borge Mogensen 2213 Sofa was created to be the ultimate timeless piece that is confident, functional, and appealing to all.
Held the most iconic sofa in mid-century Danish design, the 2213 sofa can be used to furnish upscale settings like museums, galleries, and corporate headquarters. Furnish Plus produces this icon upholstered with premium Italian leather and solid hardwood legs in natural finishes. 
Details:
Frame: Hardwood box frame construction.

Cushions: Multi-density foam seat & back cushion wrapped in silk layer.

Seat: Reinforced bottom seat cushion platform.

Legs: Solid ashwood with a natural finish.

Safety information: Each material is non-harmful, resistant to fire, and child friendly.
Both of the items are now available at furnishplus.ca in various textile and leather options.