Details:
Frame: Polished chrome steel tube finish previous to flaking and chipping.
Stitch type: Double stitch lines at all stress points. 
Seat: Incline at 20 degrees for extensive use seating comfort. 
Legs: Four plastic glides click into the pre-drilled opening on the base of the chair.
Safety information: Each material is non-harmful, resistant to fire, and child friendly.
This item is not manufactured by or affiliated with the original designer(s) and associated parties.
Customer reviews: Read verified reviews here.
Product Dimensions: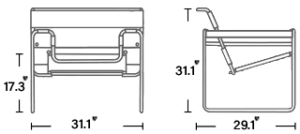 Width: 31.1″ Depth: 29.1″ x Height: 31.1″
Seating Height: 17.3″
Seat depth: 17.7″
Armrest height: 23.6″
Packing size: 32.6″ x 30.7″ x 33.4″
Net weight: 27.5 lbs
* All measurements are approximations.
Marcel Breuer Wassily Chair:
The Wassily Chair by Marcel Breuer designed in the 1920s was considered to be revolutionary in the use of material and manufacturing due its bent tubular steel. The origin of the design goes back to Breuer's inspiration from bicycles and the lightness of their tubular frame.
Named after Wassily Kandinsky, credited as a trailblazer of abstract art and a colleague of Breuer at the Bauhaus, the chair is a true representation of engineering innovation of the early Twentieth century. Not only that, this audacious design refines traditional club chairs to a series of tenacious, spare lines, brought to fruition with dynamic material.  Featuring leather seating, leathering to maintain its crisp tautness for ages.  
Furnish Plus produces this timeless icon in Italian Aniline Leather or Top Grain available in various colors with a chrome-plated stainless steel frame that is impervious to chipping and flaking.