Born in 1878, Eileen Gray was born at the finish line within a Scots-Irish aristocratic family. This had given her the opportunity to explore different parts of the world and to attend prestigious private art schools in cities such as London and Paris. Nevertheless, because she was a woman, not even her advantageous upbringing and notable life experiences granted her access to important professional networks. During most of her long life, she remained formally disassociated from prevalent art movements and design groups, in which almost all of the leading members were men. Ms. Gray settled in Paris in her 20s, and made this her home with her continuous work, along with some world-renowned designs til her death in 1976.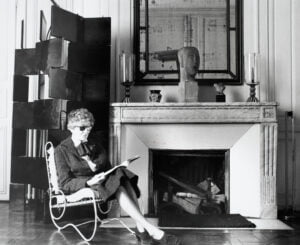 When people think of Ms. Gray, they think of a sophisticated, brilliant, and self-sufficient woman. Eileen Gray's nonconformist and brilliant mind led her to a uniquely creative life in turn-of-the-century Paris. She attended the Slade School of Fine Art in London and later on started her career in the 1900s, where her success sustained for seven long decades. In Paris, she studied drawing, painting, and, drawn to the austerity of the material, the techniques of lacquer. Eileen Gray started her interior design career in the rest of her late years and had made a great impact on the midcentury modern era. Most of these brilliant designs are unique shapes that fit almost all spaces, harmonizing with aesthetics and inspiration.
Gray's first commission for the interior design came in 1919, a project for which she developed her famous lacquered "block screens." In 1922, she opened her own shop, the Galerie Jean Desert, and that same year she exhibited work in Amsterdam, where it drew the attention of Dutch architect Jan Wils. The rational geometric forms of the De Stijl group in Holland impressed Gray deeply, and her work began to convey a stronger sense of modernity and unconventional use of materials and forms.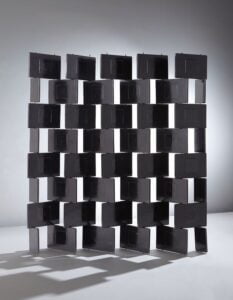 And since 1927, Ms. Gray worked primarily as an architect, designing a modernist house for herself for which she also created appropriately minimalist furniture. She also exhibited several architectural projects at Le Corbusier's "Pavillon des Temps Nouveaux" in 1937. Following that exhibition, Gray's name faded quietly away until 1970, when collector Robert Walker began buying up her designs. After 30 years of obscurity, Gray's work and its importance were again acknowledged. Today, she is recognized as one of the finest designers and architects of her day, and pieces like the Adjustable Table have become icons of modern design.
Eileen Gray is now considered an important and influential figure in design and architecture, but it was not easy for her. Her exquisite work sometimes aroused envy among other designers and she was often disregarded for being a woman. She even accused the modernist mastermind Le Corbusier of vandalizing the walls of one of her architectonic works.
The Day Bed is a signature design with a frame in tubular steel, powder-coated in black or chrome-plated, beech frame with rubber webbing, loose mattress, upholstery polyurethane with polyester fiber, cover in fabric or leather, plastic gliders in black.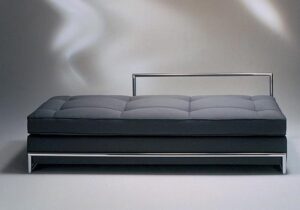 The Day Bed, along with her phenomenal Bibendum Chair are considered Eileen Gray's most famous designs. The daybed serves with multi-purposes, provides spacious seating, moreover, expectedly comfortable." What Eileen Gray in her own modesty conceals is the fact that the Day Bed is enchantingly beautiful, accessible from all sides and a pleasing sight from every perspective. It is the ideal showpiece to be placed freely in a spacious room.
 In 2015, ClassiCon already issued the Adjustable Table E1027 in a black version. Its look complies with the famous design classic version that Eileen Gray personally used in her House E1027. Matching the table, the DayBed has been available with a black frame since 2019.
Bibendum Chair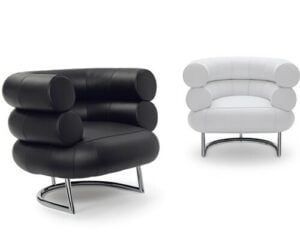 In France, Eileen Gray's early work was associated with the Art Deco movement that became popular in the 1920s. Some examples include her geometric rug designs and lacquered furniture work; in particular; the Lotus Table. However, soon she became aware of and attracted to international style trends that emerged during this time and for the rest of her career, her work took a different turn, one toward the modernist movement.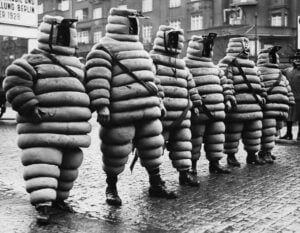 In the 1920s, we witnessed the domination of male designers, especially from Europe who could named Arne Jacobsen, Marcel Breuer, Josef Hoffman, Borge Morgensen, etc. Their work later became influential icons, Eileen Gray blessed us with the bosomy and gracious Bibendum chair. The inspiration for this iconic chair came from the iconic figure: Michelin Man, 1894. The design honors figure was mostly recognized in the Rejuvenation era. It is the most outstanding manifestation of mid-century modern explicitly. The Bibendum Chair exemplifies the Bauhaus style of design with its leather material and geometric perfection.
The composition includes an upholstered leathered curve seat and chrome steel base. The outstanding feature of this Bibendum Chair is the three tire-like rolls that made this chair visually bold and alluring. Throughout almost a hundred years of the mid-century movement, we could only name a few items that were designed by women that have achieved the prestige of Eileen Gray's Bibendum. Her innovative thinking has inspired many of us and reproduction of this item has been desired from home designers to individuals and featured on various social platforms. 
Ms. Gray signed a contract with Aram Designs, London in the late 70s to reproduce the Bibendum chair and many of her pieces for the first time. The chair soon joined the mass reproduction along with designs from other male designers such as Mies van der Rohe, Le Corbusier.
Furnish Plus is currently carrying this item in various material options: fabric, top grain leather, and aniline leather, in a range of colors as well.
The perfect combination of functionality and style, the Eileen Gray Table comes with a silver glass top and later on updated with a black tempered glass top version with a rose gold finish. This design offers proportional harmony that brings delicacy to your home. Just like most other exquisite side tables, the Eileen Gray table in rose gold also doubles up effortlessly as a bedside table.
It is almost impossible to go to staging without noticing the presence of the Eileen Grey Table. This iconic piece, if not exaggerating, must probably be the most recognizable of all side tables in the mid-century modern era. It was designed in 1927, and the graceful timeless octogenarian appearance still suits any home vibes today. Eileen Gray Side Table is a small rounded side table whose glass top and chrome structure make the item extremely versatile. If it doesn't surprise you enough, the tabletop could be adjusted to four different heights, this was originally intended for the love of having breakfast in bed.
Feature:
Frame: Polished #304-grade stainless steel with chrome finish. Cantilever tabletop.

Tabletop: Thick tempered glass.

Feature: Adjustable height.

Safety information: Each material is non-harmful, resistant to fire, and child friendly.