Details:
Frame: Molded reinforced polyurethane shell.
Upholstery: Hand-stitched using braided lockstitch for durability.
Cushion: High-density CA-117 cushioning with PU-injected foam wrapped in synthetic Dacron silk, providing smoothly shaped contouring, and cushion platform

elasticity

.

Legs: Polished #304-grade stainless steel. Comes standard with floor protective glides.
Safety information: Each material is non-harmful, resistant to fire, and child friendly.
This item is not manufactured by or affiliated with the original designer(s) and associated parties.
Customers reviews: Read verified reviews here
Dimensions: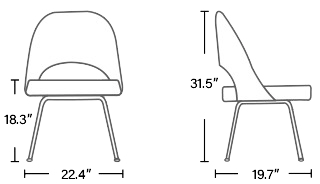 Width: 22.4″ x Depth: 19.7″ x Height: 31.5″
Seat height: 18.3″
Packing size: 22.8″ x 22″ x 33″
Net weight: 15.4 lbs
* All measurements of the Saarinen Executive Side Chair are approximations.
Saarinen Executive Side Chair (Metal Legs):
In the 1930s, Eero Saarinen in a collaborated effort created a range of organically shaped plywood chairs. These went on to win the MoMA-sponsored 1940 Organic Design in Home Furnishings competition. This work inspired Saarinen to design a chair that would provide exceptional comfort from its shell alone, and not just from the furnishing. His luxurious and sculptural Executive Side Chair and the matching Executive Armchair were the results. The design won the 1969 Museum of Modern Art Award and the West Germany Federal Award for Industrial Design.
The shells for these chairs were originally made from fiberglass but were later changed to polyurethane to increase flexibility. The lustrous metal base version of the Saarinen Executive Side Chair features stainless steel legs and flat-base floor glides. High elasticity dacron-wrapped foam cushioning with a down-like feather layer. This classic design offers refinement and pragmatic use for your office or home settings.