Details:
Frame: The seat and base are constructed of welded iron rods with plated chrome or gold finishes.
Seat pad: Attach directly to the frame with hidden mono-filament and metal hooks.
Base: Plastic glides included on sled base to protect floors.
Safety information: Each material is non-harmful, resistant to fire, and child friendly.
This item is not manufactured by or affiliated with the original designer(s) and associated parties.
Customer reviews: Read verified reviews here.
Product Dimensions: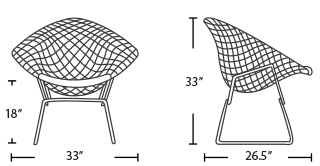 Width: 32.7″ x Depth: 26.4″ x Height: 32.7″
Seat height: 17.7″
Seat depth: 20.1″
Packing size: 33.9″ x 27.6″ x 34.6″
Net weight: 18.7 lbs
* All measurements are approximations.
Harry Bertoia Diamond Chair:
The Harry Bertoia Diamond Chair has an exquisite, artful construction and a tranquil seat, the leading icon of the 1952 Bertoia Seating Collection. The frame may appear delicate, however, it is unexpectedly strong and durable. Bertoia found great elegance in an industrial material, elevating it beyond its normal utility into a work of art. His wire chairs are considered one of the most acknowledged accomplishments of mid-century modern design.
The unique form and a canted seatback make this unrestrained airy seat perfect for leisurely lounging. The diamond shape creates a deep seat that allows the sitter to really sink in and relax. The designer's work in molding and casting goes on to be one of the few emblematic contributions to modern furniture design. The soft pad seat is hand-stitched and upholstered with premium Italian leather. With its classic, modern design this piece will enhance any environment.