Details:
Shell: molded fiberglass.
Base: molded cast aluminum powder coat paint resistant to flaking and chipping.
Seat: High density cushioning upholstered with Danish cashmere. PU-injected foam wrapped in synthetic Dacron silk. Hand-stitched using braided lockstitch technology.
Feature: 360-degree swivel.
Safety information: Each material is non-harmful, resistant to fire, and child friendly.
This item is not manufactured by or affiliated with the original designer(s) and associated parties.
Customers reviews: Read verified reviews here.
Product Dimensions: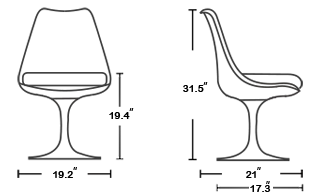 Width: 19.2″ x Depth: 21″ x Height: 31.5″
Seat height: 19.4″
Seat depth: 17.3″
Packing size: 22.8″ x 20.4″ x 32.6″
Net weight: 22 lbs
* All measurements of the Tulip Side Chair are approximations.
Saarinen Tulip Side Chair:
Eero Saarinen, a master of creating expressive sculptural forms, designed the Tulip Side Chair by taking inspiration from a drop of thick liquid. The chair stands on a graceful pedestal base that enables a 360-degree swivel.
As a part of his Pedestal Collection, the Tulip Side Chair adds the perfect modern classic touch to any dining space. Sturdy, easy to clean, and lovely to behold, these chairs elevate a meal to whole new levels of enjoyment. The chair shell is molded fiberglass with a reinforced plastic bonded finish. The upholstered foam cushion is removable, with a zippered cover and velcro fastening. Upholstery is available with a seat cushion only or with a fully upholstered inner shell. Available in an array of colors, the Tulip Side Chair makes it easy to express your individual style.