Details:
Frame: Molded five-ply seat and back, with eight-ply legs and back brace.
Seat: low-slung, molded seat, and back.
Foot: Rubber shock mounts to halt harsh movement.
Safety information: Each material is non-harmful, resistant to fire, and child friendly.
This item is not manufactured by or affiliated with the original designer(s) and associated parties.
Customers reviews: Read verified reviews here.
Dimensions: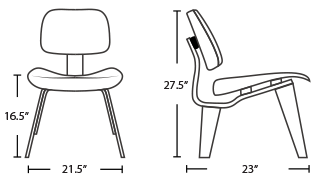 Width: 21.5″ x Depth: 23″ x Height: 27.5″
Seat height: 16.5″
* All measurements of the LCW are approximations.
FPlus Molded Plywood Lounge Chair Wood Base (LCW):
The LCW chair designed by Charles Eames was one of the first chairs in his plywood series and has held a time-honored position in the public eye. During the war years, Charles developed the techniques used to make this unique chair. The same technique was utilized by the US Navy to make the Eames Splint.
In order to form the composition that is the LCW, 5 layers of plywood are bonded and heated by a specialist machine. Two curved legs vary in size and a formed spine provides steady support. The seat and backrest are locked to the support with concealed rubber shock mount. The impressive and innovative wood molding follows the body line for maximum comfort.
FurnishPlus produces this low-slung chair with an expertly crafted molded seat and back. The LCW is available in a range of wood veneers.