Details:
Frame: Polished #304-grade stainless steel with chrome finish. Cantilever tabletop.
Tabletop: Thick tempered glass.
Feature: Adjustable height.
Safety information: Each material is non-harmful, resistant to fire, and child friendly.
This item is not manufactured by or affiliated with the original designer(s) and associated parties.
Customers reviews: Read verified reviews here.
Product Dimensions: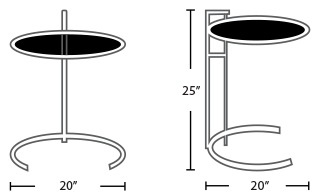 Width: 21.6″ x Depth: 19.6″ x Height: 29.9″
Packing size: 22.8″ x 21.3″ 29.9″
Net weight: 11 lbs
*All measurements of the Eileen Gray Side Table are approximations.
Eileen Gray Side Table:
Designed in 1927, the table takes its name from Eileen Gray's summer holiday house, E 1027 – Maison en Bord de Mer. This became one of the most popular design icons of the 20th century, included in the permanent collection of MoMA. Gray wanted a table that can be utilized as a side table and also be used "over her knees" while sitting. The cantilever table top creates a floating visual and the ability to cater to you wherever you're sitting. 
Adjustable height with chrome polished plated tubular steel frame, the top can be raised to various heights. Its ingenious proportions and distinctive form have made it a sought-after piece for the home or office. The symmetry of the forms and innovative design create the artistic look of this piece. It is compact and the height is adjustable, which makes it a functional table for any occasion.
Furnish Plus produces a classic design with a clear glass tabletop and a chrome frame.