Papa Bear Chair & Ottoman Details:
Frame: Molded fiberglass shell. Solid American wood frame. 
Seat: Reinforced firm cushion platform with a reversible cushion on top. Multi-density foam seat cushion for optimal comfort.
Armrest: Cantilever armrests locked into the chair frame in one consolidated piece.
Features: Upholstered both sides with button tufting in front. Floor protection caps come standard on legs.
Safety information: Each material is non-harmful, resistant to fire, and child friendly.
This item is not manufactured by or affiliated with the original designer(s) and associated parties.
Customers reviews: Read verified reviews here
Product Dimensions: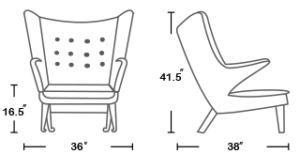 Chair:
Width: 36″ x Depth: 38″ x Height: 41.5″
Seating height: 16.5″
Seat depth: 23.2″
Armrest height: 25.9″
Packing size: 41.3″ x 37″ 44.4″
Net weight: 66.1 lbs
Ottoman:
Width: 25.9″ x Depth: 16.5″ x Height: 16.7″
Packing size: 27.1″ x 18.5″ x 19.2″
Net weight: 11 lbs
* All measurements of the Papa Bear Chair & Ottoman are approximations.
Description:
Hans J. Wegner's Papa Bear Chair & Ottoman is one of the mid-century iconic furniture designs, comprising distinctive form and durable construction. Best known as the "Teddy Bear Chair", this design was one of the first fully upholstered post-war chairs. The name came from a critic who commented on the armrests as "Great bear paws embracing you from behind". Providing great seating comfort, the solid, but elegant appearance of the chair owns a unique visual character – an appealing focal point in any modern surroundings. The creative Danish designer was often inspired by nature and its abundance of organic shapes and forms. A great example is the Papa Bear Chair, which also follows the designer's established principles of form and function. 
This chair and ottoman combination exhibit comfort as well as modernism. Hans J. Wegner created many modern furniture designs but this combination of the whimsical and mischievous flair he has on the animal kingdom has become the most sought after. At present time, this icon is still deemed one of the rare modern-day classics survivors of Wegner's line. 
FurnishPlus produces this design classic in Danish cashmere, top-grain, aniline, and vintage leather upholstery in several colors. The legs are made from Natural Oak or Walnut Wood. The armrests are also tipped with wood, increasing the durability of the upholstery and adding a touch of sophistication.