Description:
The "Basculant Chair" takes its inspiration from the 18th Century foldable wooden seat, which was used on picnics during Colonial times. Charles Le Corbusier's creation from 1929 combines form and function in a beautiful, minimalist design; the adjustable backrest provides additional seating comfort. Featured in a variety of advertisements, the elegant lines, and subtlety of the profile of the Chair has established a timeless design appeal. As one of the pioneers of modern architecture, Le Corbusier's infatuation with proportion and harmony of the forms has been infused in the finesse of his furniture designs.
Produced by hand for maximum precision of the design outline, FurnishPlus manufactures the Chair in quality top grain, aniline, vintage, and cowhide leather upholstery and a stylish steel frame.
Details:
Polished stainless steel 3mm thick bent tubular frame
Angle pitched for long use seating comfort
This is a low-sitting chair with a compact footprint
High strength reinforced load bearing seat platform cross straps
Saddle Grade Nylon Thread used on all stitching provides durability and original design accuracy
This item is not manufactured by or affiliated with the original designer(s) and associated parties.
Dimensions: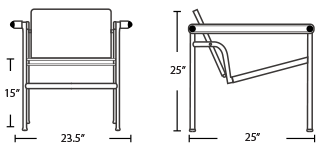 W=23.5″ x D=25″ x H=25″
Seating Height=15″
* All measurements are approximations.