FPlus LCM Details:
Top: Five layers of molded plywood. Rubber shock mounts prevent jarring movements.
Legs: Strong welded steel rod base with chrome finish.
Feet: Standard floor-protected glides.
Safety information: Each material is non-harmful, resistant to fire, and child friendly.
This item is not manufactured by or affiliated with the original designer(s) and associated parties.
Customers reviews: Read verified reviews here.
Product Dimensions: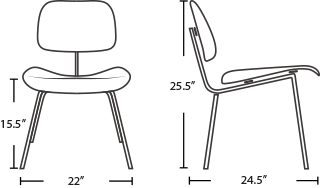 Width: 22″ x Depth: 24.5″ x Height: 25.5″
Seat height: 15.5″
* All measurements are approximations.
FPlus Molded Plywood Lounge Chair Metal Base (LCM):
The FPlus Molded Plywood Lounge Chair (LCM) is the reproduction of the Lounge Height Side Chair on Metal Base (1946) developed by Charles Eames. By the end of WWII, Charles was able to explore the possibilities with new plywood techniques. The result was a metal plywood chair that would become one of the world's most widely recognized and desired chairs.
The Lounge Chair Metal (LCM) revolutionized furniture production with its simplicity and comfort. The chair began as an experiment, created by heating up molded plywood. Thin sheets of wood veneer were pressed against a heated membrane that was inflated by the bicycle pump. The Lounge Chair metal base cradles the sitter in a comfortable position 
FurnishPlus produces this low-slung chair with an expertly crafted molded seat and back. The original chair was made with birch or ash wood, the FPlus LCM Chair is made with North American woods including Walnut and Rosewood. Rubber shock mounts between the frame, seat, and back safeguard against any harsh motions.