Details:
Frame: solid ash wood backrest and armrest with no finger joints. Finish with lacquer paint. Bow shape backrest to support the arms.
Seat: durable paper cord seat hand weaved onto the frame.
Safety information: Each material is non-harmful, resistant to fire, and child friendly.
This item is not manufactured by or affiliated with the original designer(s) and associated parties.
Customers reviews: Read verified reviews here
Product Dimensions: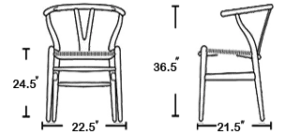 Width: 22.5″ x Depth: 21.5″ x Height: 36.5″
Seat height: 24.5″
* All measurements are approximations.
Hans J. Wegner Wishbone Counter Stool:
This Counter Stool is a minimalist archetype that holds true to the mid-century modern era. An uncommon and impeccable merger of natural elements and being functional. Hans J Wegner's broad knowledge of wood has given life to this intricate composition of a chair. The Y-back set up a real simple, uncomplicated look that is ordinary yet flexible. The sculptural rail on top and sturdy tapered legs are gorgeous additions to the snug and soft woven paper cord seat.
This minimalist chair is perfect in almost the dining room, living room, and office. A classic design, adapted with the time that never goes out of style.
Only the top-quality material was used to produce this chair, meant to be durable and timeless. Furnish Plus delivers this modest, essential piece in Natural Oak, Walnut, or Blackwood Finish.