Details:
Frame: Highly polished solid-core #304-grade stainless steel frame with chrome finish and no weld lines.
Seat: Upholstered with individual panels. Each panel is cut, hand-welted, and tufted with leather buttons. 
Cushions: High-resilient urethane foam with down-like dacron polyester fiberfill. 
Straps: upholstery straps are made from genuine leather attached with aluminum rivets. These are used to fasten cushions to the frame.
Safety information: Each material is non-harmful, resistant to fire, and child friendly.
This item is not manufactured by or affiliated with the original designer(s) and associated parties.
Customers reviews: Read verified reviews here.
Product Dimensions: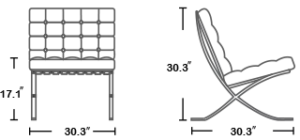 Width: 30.3″ x Depth: 30.3″ x Height: 30.3″
Seat height: 17.1″
Seat depth: 18.5
Packing size: 32.2″ x 31.4″ x 30.7″
Net weight: 57.3 lbs
* All measurements of the Pavilion Chair approximations.
Pavilion Chair:
One of the most well-known articles of the last century, and a figure of the modern movement, the Barcelona Chair radiates an uncomplicated sophistication that exemplifies Mies van der Rohe's most famous motto: "less is more."
The Pavilion Chair was originally created to seat the king and queen of Spain. It was inspired by the Roman "sella curulis" judge's chair and the ancient Egyptian folding stools. In Rohe's own words the Barcelona Chair was "important and elegant", which was soon confirmed by the chair's overwhelming popularity. Throughout time, it went on to be an icon of modernism and a master of craftsmanship. 
The simplicity of the refined design joins functionality and a focus on proportion. The Pavilion Chair ensures excellent seating comfort and a streamlined silhouette. It features ample cushioning for a more relaxed appearance and supple exterior. The button details add to the aesthetic appeal of the design as well as being the signature feature of the whole Pavilion series. The reliable construction provides durability and stability. 
FurnishPlus produces this classic piece with a durable chrome finish metal frame, upholstered in top grain, aniline, or vintage leather. It is available in a wide range of colors.