Description:
Saarinen Executive Armchair's Story:
There is more to Eero Saarinen than his famed Tulip collection. The 20th century Finnish American architect and industrial designer is most well-known for his singular series of tables and chairs but his other designs are equally as impressive.
The Eero Saarinen Executive Armchair is a stunning chair true to the organically structured lines characteristic of the designer. Conforming to the human body for optimal comfort, the sculptural piece provides just the right amount of support and comfort. The Eero Saarinen Executive Armchair is ideal for the dining room or office.
Details:
Saarinen Executive Armchair's Details :
This Furnish Concept Plus reproduction features:
Hand-stitching using braided lockstitch throughout the entire piece for an outstandingly luxurious feel with the durability of the original design
Construction around a curved fiberglass shell
High density cushioning with PU-injected foam wrapped in synthetic Dacron silk, providingsmoothly shaped contouring and cushion platform resilience
Polished #304 grade stainless steel for a modern finish resistant to chipping and flaking
Approval for residential and commercial spaces for optimal flexibility
Floor protective pads on the feet of the chair to protect surfaces
Dimension: 26.4 in x 24 in x 33 in (Width x Depth x Height)
This item is not manufactured by or affiliated with the original designer(s) and associated parties.
Dimensions: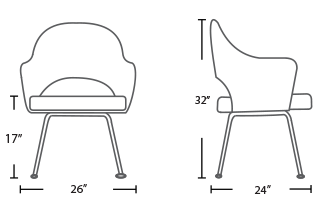 W=26″ x D=24″ x H=32″ x H=17″