Details:
Shell: molded fiberglass.
Base: molded cast aluminum powder coat paint resistant to flaking and chipping.
Seat: High density cushioning upholstered with Danish cashmere. PU-injected foam wrapped in synthetic Dacron silk. Hand-stitched using braided lockstitch technology.
Feature: 360-degree swivel.
Safety information: Each material is non-harmful, resistant to fire, and child friendly.
This item is not manufactured by or affiliated with the original designer(s) and associated parties.
Customers reviews: Read verified reviews here.
Product Dimensions: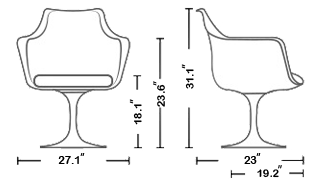 Width: 27.1″ x Depth: 23″ x Height: 31.1″
Seat height: 18.1″
Seat depth: 19.2″
Armrest height: 23.6″
Packing size: 28.3″ x 25.2″ x 32.6″
Net weight: 26.4 lbs
* All measurements are approximations.
Saarinen Tulip Armchair:
Eero Saarinen was brilliant at creating elegant sculptural forms. There's magic in everything he brought into existence, especially the Tulip Armchair. This classic design is an accomplishment for Saarinen to brighten up, simplify and bring serenity to your home. 
As a part of his Pedestal Collection, the Armchair adds the perfect modern classic touch to any dining space. Sturdy, easy to clean, and lovely to behold, these chairs elevate a meal to whole new levels of enjoyment. The chair features a swivel seat, standing on an elegant shaped cast-aluminum base. The chair shell is molded fiberglass with a reinforced plastic bonded finish. The upholstered foam cushion is removable, with a zippered cover and velcro fastening. Upholstery is available with a seat cushion only or with a fully upholstered inner shell. Available in an array of colors, the Armchair makes it easy to express your individual style.