The Different Leather Grains Types and How They Affect Quality:
It is important that you understand the difference between the different types or grains of leather. There are mainly two categories used in making furniture. They are 'Aniline leather' and 'Top Grain leather'.
Difference between Aniline and Top Grain:
Knowing the difference between the two leather grains can prove to be beneficial. After all, it will help you determine the quality of the leather furniture that you will buy next. The quality of any leather depends greatly on the grain.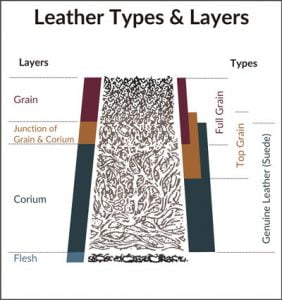 Top Grain Leather :
This type of leather is produced by using the outermost or topmost layer of a cowhide. There is a difference between top grain and full grain. Top grain leathers might be buffed out or sanded so as to reduce the blemishes on it.
Unlike other types of leather, top grain is not a very processed one. However, they do not show their natural features. They also feel harder than aniline leather. In order to make top grain leather, the natural grain present on the top of the layer is sanded. Instead, imitation grain is stamped onto the leather. This imparts a uniform look to the leather but there is an absence of genuine grain.
Aniline/Full Grain Leather:
It is easy to believe that top grain leather is the best kind due to the usage of the word, 'top'. However, it is actually aniline leather which is the best type of leather available. When you look at aniline leather upholstery, you will easily notice the natural grain and markings on the leather. As each animal has its own grain characteristics, you will be noticing the same in the leather.
Aniline leather is made from skins or hides that are of a high quality. At the same time, sanding is not used for processing this leather. As a result, the leather retains its natural looks. In order to treat the leather, transparent aniline dyes are used. Protective treatments or coatings are not applied to aniline leather. For that reason, it still retains its natural feel.
100% pure Italian leather makes use of aniline leather to which a mixture of waxy oils has been applied. This ensures a glossy finish and a pull-up effect.
Comparison between the Two Types of Leather:
Aniline and top grain leather can look and feel different. However, that is not all.
As aniline leather is made from the most durable and strongest part of the animal hide, it is also rather strong. It is more durable than top grain leather. The section of the hide used also has a very tight grain structure. For this reason, this leather is good at resisting moisture. With the passage of time, aniline or full grain leather will look better and a patina will develop with usage.
Top grain leather is the second strongest type of leather. The uppermost layer is removed by sanding during the processing phase to get rid of imperfections. While the leather achieves a more uniform look, the durability decreases. Therefore, it will not last for a long time. The majority of handbags and wallets are made out of this leather. Egg chair and Womb chair are the two items we carry in aniline and top grain leather.