Description
Description:
Created in 1961, Poul Kjærholm's PK9 Chair reflects the designer's quest for the perfect form. The PK9 has an individual and aesthetical design profile, combining clean lines and organic forms. The tripod base provides a distinctive look as well as a stable support for the seating shell. The fully-upholstered seat ensures comfort and elegance. The experienced Danish cabinetmaker recognized the perfect balance of materials and forms, making the PK9 Chair one of the popular classics of 20th Century Nordic furniture design.
FurnishPlus produces the PK9 with a three-pronged chromed steel base and a fiberglass shell, fully upholstered in top grain, aniline, and vintage leather in a range of colors.
Details:
Custom upholstery
Solid stainless steel legs

The entire product is stitched and crafted by hand

This item is not manufactured by or affiliated with the original designer(s) and associated parties.
Dimensions: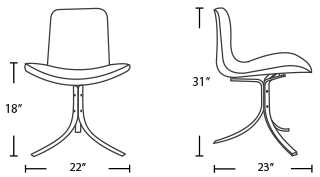 W=22″ x D=23″ x H=31″
Seating Height=18″
* All measurements are approximations.
Show all details