Details: 
Structure: Hardwood frame, treated for durability & pests control using a non-toxic Kiln-dried treatment.
Cushion: High elasticity dacron-wrapped foam with a genuine down feather layer.
Upholstery: Danish Cashmere/Top Grain/Aniline leather.
Base: Black finish solid wood legs with metal glides.
Safety information: Each material is non-harmful, resistant to fire, and child friendly.
This item is not manufactured by or affiliated with the original designer(s) and associated parties.
Customers reviews: Read verified reviews here.
Product Dimensions: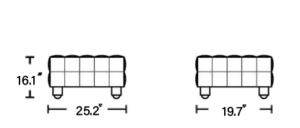 Width: 25.2″ x Depth: 19.7″ x Height: 16.1″
Packing size: 23.6″ x 18.9″ x 18.1″
Net weight: 26.5 lbs
* All measurements of the Kubus Ottoman are approximations.
Josef Hoffmann Kubus Ottoman:
The beautiful leather Kubus Ottoman was designed by Josef Hoffman, a modernist pioneer using geometrical lines and a mathematically inspired themes. Hoffman's talent to combine classic design principles with modern quadratic methodology. Renowned for his approach to interiors, creating a body of art that reconciles all aspects of architecture and design. He had a preference for geometric composition and especially with squares, inspiring the refined Kubus collection to be reminiscent of cubism in Argentina in the 1910s. The chair plays with the viewers' perception of depth and scale. This strong and simple piece merges craftsmanship and artistic conception and is built to last in quality and style. 
The armchair is both immaculate and functional with its cushioned cubes, upholstered in thick Italian leather, each cube stitched precisely for a seamless finish and superior comfort. Built from a solid-wood frame that guarantees geometric durability and sleek shape.