PK31 Armchair Details:
Frame: Solid stainless steel, highly polished #304 grade with a brushed finish. 
Base: Stainless steel base joints are fully welded, ground, sealed, and sanded smooth.
Legs: Chrome-plated steel with floor protectors included. 
Seat: Supple dacron-wrapped foam with an authentic down feather layer. Multi-density foam seat cushions provide comfort and cushion structure memory. Reinforced bottom seat cushion platform for firm longer lasting support. Upholstery stitched and crafted by hand.
Safety information: Each material is non-harmful, resistant to fire, and child friendly.
This item is a reproduction of  PK31 Armchair by Poul Kjaerholm and is not manufactured by or affiliated with the original designer(s) and associated parties.
Customer reviews: Read verified reviews here.
Product Dimensions: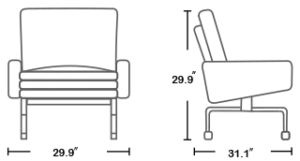 Width: 29.9″ x Depth: 31.1″ x Height: 29.9″
Seat height: 15.3″
Seat depth: 16.9″
Armrest height: 19.1″
Packing size: 31.8″ x 31.1″ x 29.5″
Net weight: 72.7 lbs
* All measurements of the PK31 Armchair are approximations.
Poul Kjaerholm PK31 Armchair:
The PK31 series combines exquisite extravagance with alleviation. Known for its elegance and functional design, the armchair is one of Poul Kjaerholm's most intriguing and renowned pieces. It is a freewheeling individualistic item and an accomplishment of Kjaerholm's quest to find an optimal form. 
The Danish designer accented simple clean lines, creating a modernist angular look. The artistic steel frame offers support to the structure giving the chair its individual character. It features an all-leather upholstery with each cushion being complemented  with six pockets as a means to help the padding keep its shape and provide maximum comfort. These features make this remarkable chair a centerpiece of any living space. The trapezoidal armrests are reminiscent of the Boeing 747's interior from the 1960s.
When it comes to seating, The PK31 Armchair is deemed to be one of the most generous among its contenders. In addition, it features an artistically designed stainless steel frame used as a structural support for the chair. This spacious armchair offers excellent comfort, and the sculpture-like frame provides durability and stability.
FurnishPlus produces this design classic in top grain, aniline, and vintage leather upholstery in a choice of colors. The unique steel legs complete this elegant piece. It is also available as a two and three-seater sofa.