Description:
Created in 1963, the Ball Chair, also known as the Globe Chair, is an impressive, unconventional design that has featured in a number of TV shows and films. Sheltered for privacy, this classic of industrial design can swivel 360°, which makes it a functional centerpiece of any room. The padded cashmere upholstery provides a cozy and comfortable seating experience. Known for his innovative furniture design, the Finnish designer Eero Aarnio combines aspects of popular culture with simple geometric forms. Due to his original design, the Ball Chair has appeared in numerous TV shows and movies including 'Men in Black', 'Dazed and Confused' and the 1960s series "The Prisoner".
FurnishPlus produces the iconic design in a white fiberglass shell, which is completed by a quality cashmere interior in a choice of colors, to match the décor of any room.
Details:
The durable Fiberglass shell is available in a glossy white finish
Choose from 15 popular fabric colors for the interior lining and cushions
360 Degree steel ball bearing swivel base
Smooth Contour foam body wrap provides a meticulously smooth contour for the interior paneling
This item is not manufactured by or affiliated with the original designer(s) and associated parties.
Dimensions: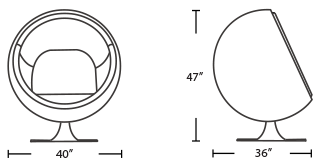 W=40″ x D=36″ x H=47″
* All measurements are approximations.