Details:
Frame: Molded fiberglass shell with glossy white finish.
Base: Cast aluminum base resistant to chipping and flaking
Seat padding & Cushion: Filled with high resiliency foam with feather-down wrap.
Upholstery: Danish Cashmere.
Feature: 360 Degree steel ball-bearing swivel base.
Safety information: Each material is non-harmful, resistant to fire, and child friendly.
This item is not manufactured by or affiliated with the original designer(s) and associated parties.
Customers reviews: Read verified reviews here.
Product Dimensions: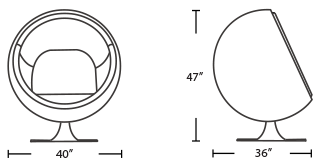 Width: 41.3″ x Depth: 36.2″ x Height: 46.1″
Seat height: 20.1″
Seat depth: 23.6″
Packing size: 44.1″ x 44.1″ 33.5″
Net weight: 110.2 lbs
* All measurements are approximations.
Eero Aarnio Ball Chair:
The Ball Chair, originally the Globe Chair, was designed by Eero Aarnio in 1963. The chair made its first appearance in 1966 at the Cologne Furniture to great acclaim. This Aarnio's creation came to be an international breakthrough and one of the most distinguished and esteemed classics of Finish designs. 
Eero Aarnio's favorite materials are fiberglass and the rounded shape, emulated in most of his designs, the prime example being the Ball chair which can swivel 360 degrees. The shell of the Chair is clean yet innovative, drawing the natural and minimalistic Finish design then adding his futuristic take on it. The chair can be found featuring in various magazine covers, music videos, and movies including 'Men in Black', 'Dazed and Confused' and the 1960s series "The Prisoner".
Furnish Plus produces this iconic piece in an array of colors and upholstered with Danish Cashmere.