What you need to know about Yoga Glass Console Table:
When we think about Zen, about clean spaces and eye-catching pieces, one of the first thing that comes to our minds is a peaceful and stress free ambiance and our Yoga Glass Console Table provided by Furnish Plus is the perfect piece to create just the right balance between clean, modern and elegant.
Our Yoga Glass Console Table is a solid arch of semi-tempered glass, shaped with graceful bends, giving you a reliable surface that won't take up visual space. The arched, frosted glass shelf underneath helps to reduce clutter while providing a chic, modern, minimalistic and relaxing ambiance.
This beautiful  lends a graceful Zen to any space; just like a flawless, strong beautiful warrior pose, or a smooth dancer's pose displaying every inch of perfection. The Yoga Glass Console Table is a blending piece with of simple geometric and unique shape, giving your living room, study room or office the perfect touch of tranquility and character to design and create exceptional atmosphere in any room.
Yoga Glass Console Table at Furnish Plus:
At Furnish Plus we are proud to bring only the best quality pieces in the modern contemporary furniture world. Our Yoga Glass Console Table could be your next Striking piece. If you are looking for more ideas or if you have any questions in regards our Yoga Glass Console Table or any other products our customer knowledgeable customer service will gladly assist you and help you create your next unique space in your world.
Yoga Glass Console Table's Dimension by Furnish Plus: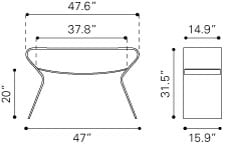 Purchase Yoga Glass Console Table from Furnish Plus: