Details of the Wing Chair:
Body: The chair is fully upholstered. The curved sculpted backrest is aesthetically striking but supportive nevertheless.
Foam type: Cushioning of a high density of CA-117 available with PU-injected foam.
Stitches type: Hand-stitching material with the use of braided lock stitch technology for durability and comfort.
Base frame: The 304-grade stainless steel legs with a Chrome finish to ensure resistance to flaking and chipping. The feet have pads that protect the floor surfaces.
Seat platform: The seat cushions enhance comfort with extra support provided by the padded armrests, makes an ideal lounge chair.
Safety information: Each material is non-harmful, resistant to fire, and child friendly.
This item is not manufactured by or affiliated with the original designer(s) and associated parties.
Customers reviews: Read verified reviews here
Product Dimensions: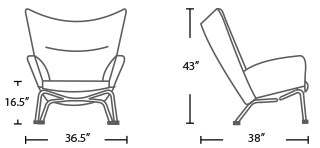 Width: 36.5″
Depth: 38″
Height: 43″
Seating Height: 16.5″
Seating Depth: 19.7″
Armrest Height: 25.6″
Packing Size: 41.3″ x 37″ x 44″
Net Weight: 75 lbs
* All measurements of the Wing Chair are approximations.
Hans J. Wegner Wing Chair:
The Wing Chair by Hans J. Wegner has a distinct and powerful design character. Inspired by the organic forms he found in nature, Wegner created his furniture with simple, smooth lines combining ultimate comfort and a stylish look. The designer's ambition was to create furniture that allows freedom of movement while not compromising on poise and elegance.
The Wing Chair, with a contemporary clean-cut design, is a timeless piece that adds an element of sophistication to your home. Considerably the most interesting features of the chair, the eye-catching stitched line running across the backrest, slightly sloped, exhibits how subtle details can provide the highest visual impact. The strong character of the armchair is emphasized by the thin metal legs. The back legs is slightly lower than the front legs, give the chair an ideal tilt, which provide stable support. 
Furnish Plus produces this design icon in cashmere, top grain, aniline, and vintage leather in a range of colors.