Description:
The Wing Chair by Hans J. Wegner has a distinct and powerful design character. Inspired by the organic forms he found in nature, Wegner created his furniture with simple, smooth lines combining ultimate comfort and a stylish look. The designer's ambition was to create furniture that allowed for freedom of movement. The strong character of the armchair is emphasized by the thin metal legs, which provide stable support.
FurnishPlus produces this design icon in cashmere, top grain, aniline, and vintage leather in a range of colors. The legs are chromed steel.
Details:
The comfortable yet modern design adds an element of sophistication to your home
Ottoman available – Click Here
High levels of comfort provided by the reclining and spacious seating
The curved sculpted backrest is aesthetically arresting but supportive
The 304-grade stainless steel legs have been polished to ensure resistance to flaking and chipping
The cushions of the seat enhance comfort with extra support provided by the padded armrests
The chair is fully upholstered.
Customization options allow you to exercise your design aesthetics
The feet have pads protect the floor surfaces
This item is not manufactured by or affiliated with the original designer(s) and associated parties.
Dimensions: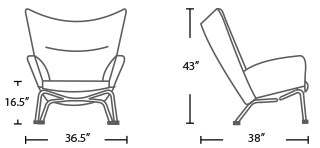 W=36.5″ x D=38″ x H=43″
Seating Height=16.5″
* All measurements are approximations.