Description
Description:
The Organic Chair was designed in 1940 for the New York Museum of Modern Art's "Organic Design in Home Furnishings" competition. Technically advanced, the impressive seat was not put into series production until after 1950, when technology had matured enough to manufacture larger quantities of the organically shaped seat shells. Eero S. designed the sought-after Organic Chair in conjunction with Charles E., combining the creative design vision and talent of two of the most significant designers of the 20th century.
FurnishPlus produces the Organic Chair in hand-formed shell upholstered in quality cashmere in various colours.
Details:
Premium cashmere upholstery
Available in a range of different fabric colours
American walnut base
PU-injected foam wrapped in synthetic Dacron silk
This item is not manufactured by or affiliated with the original designer(s) and associated parties.
Dimensions: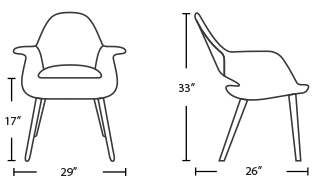 W=29″ x D=26″ x H=33″
Seating Height=17″
* All measurements are approximations.
Show all details