Details:
Tabletop: Durable 10mm thick tempered glass.

Flat beveled edge underneath. 

Base: Polished #304-grade stainless steel wire rods.
Safety information: Each material is non-harmful, resistant to fire, and child friendly.
This item is not manufactured by or affiliated with the original designer(s) and associated parties.
Customer reviews: Read verified reviews here.
Product Dimensions: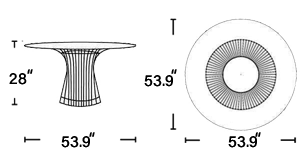 Diameter: 53.9″
Height: 28″
Packing size:

Top: 57.1″ x 57.1″ x 2.4″
Base: 35.4″ x 35.4″ x 29.1″

Net weight: 205.03 lbs
* All measurements are approximations.
Warren Platner Dining Table:
In the 1960s, when modernism became more expressive, this dramatic shift in cultural values was reflected in Platner's designs. He felt there was an opportunity to merge the competing aesthetics of the time. Exquisitely elegant – The Platner Dining Table combines delicate, elegant design with modernism, one and the other extremely comfortable and visually stimulating. Whether upholding tableware or playing cards, it serves as a genuinely enticing place to enjoy and dine.
The emblematic dining table, which creates a main point of interest for any dining room, is constructed by welding bowed steel rods to circular frames, simultaneously serving as a decorative piece and furniture. FurnishPlus produces this dining table in a 54-inch diameter, which seats up to six people.