PK25 Lounge Chair Details:
Frame: Matt chromed spring steel.
Seat: Balanced tension natural flag halyard.
Safety information: Each material is non-harmful, resistant to fire, and child friendly.
This item is not manufactured by or affiliated with the original designer(s) and associated parties.
Customer reviews: Read verified reviews here.
Dimensions: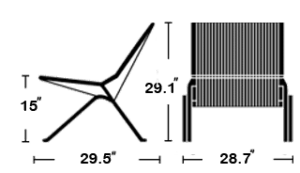 Width: 28.7″ x Depth: 29.5″ x Height: 29.1″
Seat height: 15″
Seat depth: 17.7″
Packing size: 31.9″ x 30.3″ x 30.3″
Net weight: 37.5 lbs
* All measurements of the PK25 Lounge Chair are approximations.
Poul Kjærholm PK25 Lounge Chair:
The PK25 also known as the "Element" Chair, was designed by Poul Kjærholm in 1952 as his final graduation project at the School of Arts and Crafts in Copenhagen. This lounge chair has set an astonishing precedent of the designer's ambition to revolutionize simple furniture into fascinating works of art. The continuous steel frame is bent in a single piece without visible connections and joints, creating a flawless form without interruption. Kjærholm's intention was to reduce the chair to a single piece of each material. The seating element is of natural flag halyard woven onto the matt chromed spring steel frame.
Furnish Plus produce this iconic masterpiece with natural rope laced on stainless steel base resistant to chipping and flaking. The lounge seat reclines slightly for your utmost relaxation experience.