Details:
Frame: highly polished #304-grade tubular stainless steel frame with a brushed finish.

Joints are silver welded.

Upholstery: Imported Italian leather.
Cushion: Low-profile high-density foam.
Safety information: Each material is non-harmful, resistant to fire, and child friendly.
This item is not manufactured by or affiliated with the original designer(s) and associated parties.
Customers reviews: Read verified reviews here.
Dimensions: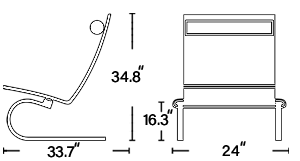 Width: 24″ x Depth: 33.7″ x Height: 34.8″

Seating height: 16.3″
Seating depth:

19.5″

Packing size: 35.4″ x 25.2″ x 36.2″
Net weight: 66.1 lbs
* All measurements are approximations.
Poul Kjærholm PK20 Chair:
The PK20 designed by Poul Kjærholm is a serene, graceful, and luxurious chair. It has become a mid-century classic over the years, as well as a permanent fixture at the Victoria and Albert Museum in London. Poul Kjaerholm's constant experiment with steel, utilizing its natural flexibility and strength has produced the PK22 with a cantilever seat supported exclusively by the two front legs, presenting a slim, dramatic curvy figure.
The chair now features handcrafted soft leather upholstery and a reclining backrest, supported by a flexible matt chromed spring steel frame. In addition to the high back, the chair comes with a matching leather headrest.