LCM FPlus Lounge Chair Description:
This classic, mid century FPlus reproduction lounge chair will bring simple and elegant style to any space. The smoothly curved plywood seat is molded to fit the form of your back, and the contrasting steel legs add lasting durability and support. This iconic designed chair is part of the permanent collection at the Museum of Modern Art and was named the best design of the 20th century by Time Magazine. The simple and light looking lounge chair will take up minimal space while providing maximum comfort and style.
FurnishPlus produces the iconic piece in a choice of quality veneers with a sleek chrome frame base, creating a modern design.
LCM FPlus Lounge Chair Details:
The chairs are offered in your choice of rosewood, natural oak, walnut, and black
Polished stainless steel frame
Time Magazine's "Best Design of the 20th Century"
Featured in the permanent MoMA collection
Extremely comfortable
Ergonomic seat and backrest
This item is not manufactured by or affiliated with the original designer(s) and associated parties.
LCM FPlus Lounge Chair Dimensions: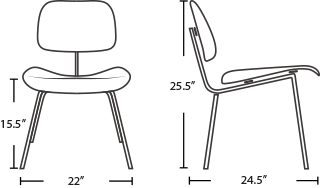 W=22″ x D=24.5″ x H=25.5″
Seating Height=15.5″
* All measurements are approximations.