Description
Description:
LC7 Swivel Chair's Story:
Le Corbusier, the legendary designer, created the LC7 Swivel Chair which has served as the inspiration for this reproduction from Furnish Concept Plus. Le Corbusier believed that chairs were a form of architecture and this piece expresses his unique approach to modern design, combining functionality and harmony in a single piece.
The LC7 Swivel Chair is a practical and beautiful piece. Stainless steel is used for the frame to ensure durability. It has been nicely polished to prevent rusting and chipping. Genuine aniline Italian leather is upholstered for the backrest, seat and armrest. Together, they create the ultimate experience in relaxation. Minute details have been taken care of such as the steel joints which have been welded and sanded to remove imperfections. The LC7 Swivel Chair is visually stimulating and luxuriously comfortable. It is a fascinating example of the genius vision of Le Corbusier.
Details:
LC7 Swivel Chair's Details: 
The features of this reproduction from Furnish Concept Plus are mentioned below:
The upholstery of the chair features 100% aniline full grain leather that has been imported from Italy. It is one of the best leathers in the world. We have maintained strong bonds with our suppliers over the years allowing us to offer you a range of colors and finishes. This material is used in all places in the chair covered by leather.
304-grade stainless steel has been used for the external wrapping around the tubing.
A 3-step process has been used for polishing the steel by hand. This ensures a mesmerizing shine while providing resistance to rust and chipping.
The chair can revolve completely through 360 degrees.
The cushions have been padded with polyester wadding and polyurethane foam that is CFC-free.
Choose between fabric and leather for the upholstery.
The reproduction is high accurate
Dimensions: Width=24.8in, Width=26.0in, Height=29.1in Seat Height=20.5in
Difference between Aniline and Top Grain Leather? Click Here
This item from Furnish Concept Plus has not been manufactured by the original designer or any associated parties. It is not affiliated with any of them either.
Dimensions: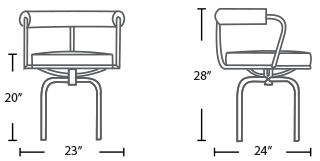 W=23″ x D=24″ x H=28″ x SH=20″
Show all details