Details: 
Frame: Polished chrome tubular stainless steel impervious to chipping and rust.
Base: Black lacquered steel base. Standard floor protection caps on four legs.
Padding: High resilient urethane foam

 pad and headrest provide comfort and a cushy feel.

Features: Comes complete with a cylinder headrest pillow. Adjustable reclining angles. Reinforced bottom elastic supporting strap network.
Safety information: Each material is non-harmful, resistant to fire, and child friendly.
This item is a reproduction of the LC4 Chaise Lounge by Le Corbusier and is not manufactured by or affiliated with the original designer(s) and associated parties.
Customers reviews: Read verified reviews here.
Product Dimensions: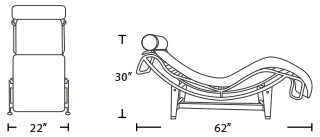 Width: 22″ x Depth: 62″ x Height: 30″
Packing size: 65.3″ x 24.8″ x 18.5″
Net weight: 47.3 lbs
* All measurements of the LC4 Chaise Lounge are approximations.
Le Corbusier LC4 Chaise Lounge: 
Designed in the early 20th century, the LC4 Chaise Lounge Chair is a luxurious yet classic statement by Charles Le C. which is often referred to as the "ultimate relaxing machine". This piece became a fundamental element of Charles's line of furniture designs and has since remained a pioneer in the design industry. The unique shape of the chaise represents the natural contours of the human body providing an ergonomic seating and experience that is unmatched. The padded upholstery adds to the comfort. The sculpted steel tubes not only serve a structural purpose but also carry a unique look making the piece stand out in any environment.
This lounge chair is available in various upholstery from cowhides or Top-grain to Aniline leather in several colors. The chaise lounger also features an adjustable round neck roll which is made up of high-quality leather filled with down. The chaise lounger sits on a chromed-steel upper frame with the entire structure being supported by a black-painted steel base.