LC4 Chaise Lounge Description: 
The LC4 Chaise Lounge Chair is a luxurious design classic from the early 20th century, which Charles Le C. himself called the "ultimate relaxing machine". The elegant piece became a core element of Charles Le C's furniture line and has remained at the forefront of style to this day. The design outline embraces the natural contours of the human body and the padded upholstery adds to the ergonomic comfort. The reliable structure is comprised of geometrically sculpted steel tubes, which will be the focal point in any environment.
This lounge chair is available in pony hair or top grain or aniline leather in several colors. The adjustable round neck roll is made from high-quality leather filled with down. The lounger rests on a chromed-steel upper frame, which can double as a luxurious rocker, and the entire structure is supported by a black-painted steel base.
LC4 Chaise Lounge Details: 
LC4 Chaise Lounge features Chromed Tubular Steel Frame
Black Lacquered Steel base Polyurethane Foam Pad and Headrest

Adjusts to various reclining angles

Comes complete with tubular headrest pillow

Reinforced bottom elastic supporting strap network

Quality classic or premium leather
This item is not manufactured by or affiliated with the original designer(s) and associated parties.
 Dimensions: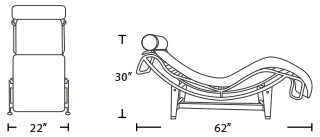 W=22″ x D=62″ x H=30″