Description
Description:
Harry Bertoia Chair Styles:
This Chair comes with the soft pad and all hand stitches.
Inspired by Harry Bertoia's original 1952 design, this chair is a wondrous study in form, function, and space. The diamond shape creates a deep seat that allows the sitter to really sink in and relax. A supple top-grain leather removable cushion adds comfort and support for the seat. The stainless steel grid frame of Harry Bertoia Chair Style from FurnishPlus reflects Bertoia's experimentation into practical art and his concern for space, form, and the characteristics of the metal. Though the powder-coated steel frame may appear delicate it is indeed strong and durable. With its classic, modern design this piece will enhance any environment.
Details:
Harry Bertoia Chair Details:
This Harry Bertoia Chair design is a high-quality replica and is in no way affiliated with the original manufacturer or designer. FurnishPlus specializes in reproducing mid-century furniture and lighting. We strive to stay as close to the original specifications and materials as possible, so customers can get their favorite designs at affordable prices, without sacrificing quality. FurnishPlus mid-century furniture is tested to the highest standards to assure customer satisfaction.
*Article about the difference between Top grain and Aniline leather. Click Here
Dimensions: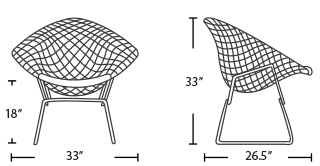 W=33″ x D=26.5″ x H=33″ x SH=18″
Show all details