Walnut Stool Details:
Material: High-quality solid walnut.

Reversible concave top and bottom.

Can be used as a seat or side table.

Safety information: Each material is non-harmful, resistant to fire, and child friendly.
This item is not manufactured by or affiliated with the original designer(s) and associated parties.
Customers reviews: Read verified reviews here.
Dimensions: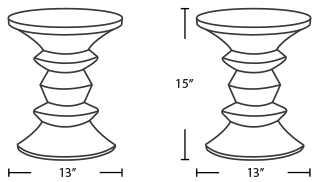 Width: 13″ x Depth: 13″ x Height: 15″
* All measurements of the FPlus Walnut Stool are approximations.
FPlus Walnut Stool:
Originally the Eames Walnut Stool (1960), designed by Charles and Ray Eames for the Time-Life Building at New York City's Rockefeller Center. Ray led the design for this, taking inspiration from a wooden African seat she had purchased. 
Simplify the seating to its basic elements, the stools also can double as side tables. Both sides of the piece are concave, with either end can be "top" or "bottom". A wood dowel fortifies the middle point of the components, keeping them linked and stable.
Interchangeable ends mean either side can serve as a place to stack books, a spot to sit, and a stand for plants.