Description:
Made in 1960, the Charles E. Walnut Stool is one of the designer's recognizable creations, mixing functionality with sculptural beauty. Purpose built for the lobby of the Time-Life Building in New York, the symmetrical form of the design accentuates the beauty and durability of the walnut wood. The artistic piece has a versatile use ranging from a stool, decorative piece or a plant stand and its distinctive profile will be an aesthetical feature in any interior.
FurnishPlus produces the Walnut Stool by hand to ensure the precise manufacturing of the detail of the design. The stool is made of quality solid walnut wood.
Details:
Iconic design from 1960
Functional and aesthetical
High-quality solid walnut wood
This item is not manufactured by or affiliated with the original designer(s) and associated parties.
Dimensions: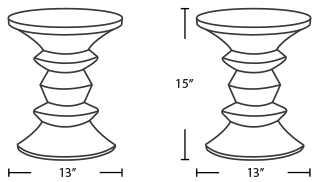 W=13″ x D=13″ x H=15″
* All measurements are approximations.