Description:
This office chair from the Alu series is a classic example of functional chic, favored for over half a century. The shape is molded in line with the body to provide support for the back and offer maximum comfort for work or relaxation. The elegant profile outline of the aluminum base and the slim, ribbed upholstery of the chair create the light structure of the design, which is the distinctive characteristic of the Alu series. The armrests are an additional feature for comfort and pure aesthetic balance of the form of the chair.
The chair is equipped with a convenient swivel function and is adjustable. FurnishPlus produces the iconic piece in top grain and aniline leather, in several colours.
Details:
Impressive luxury design from 1958
The chair has a locking tilt and a swivel function and is height adjustable
Chair is upholstered with top grain and aniline leather
highly polished aluminum base and arms
The foam cushions are PU injected and is wrapped in Dacron
The pneumatic height adjustment will enable you to adjust height conveniently
This item is not manufactured by or affiliated with the original designer(s) and associated parties.
Dimensions: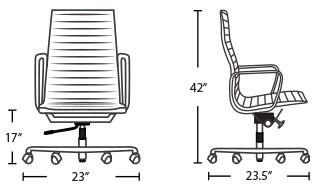 W=23″ x D=23.5″ x H=42″
Seating Height=17″
* All measurements are approximations.