Description:
The efficient and very stylish office chair follows the popular design principles of Charles E.'s creative vision. The sophisticated piece comprises a medium-high backrest and aluminum star-shaped base with castors, which adds to the design's functionality and multi purpose use. The padded cushions provide further comfort, much needed during a busy workday. The design follows the same construction formula as the renowned Aluminum Group Chairs, named by design gurus as one of the most significant furniture collections of the 20th century.
FurnishPlus produces this office chair in quality top grain and aniline leather in a range of colors. The star-shaped base, characteristic of the Charles E. Soft Pad Group, is from aluminum.
Details:
Impressive luxury design from 1969
The chair has a locking tilt and a swivel function and is height adjustable
Chair is upholstered with top grain and aniline leather
highly polished aluminum base and arms
The foam cushions are PU injected and is wrapped in Dacron
The pneumatic height adjustment will enable you to adjust height conveniently
This item is not manufactured by or affiliated with the original designer(s) and associated parties.
Dimensions: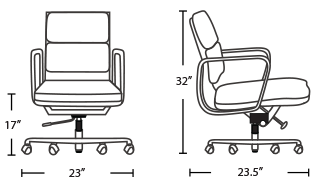 W=23″ x D=23.5″ x H=32″
Seating Height=17″
* All measurements are approximations.