Description:
The iconic Soft Pad Group Chair is part of one of the most significant chair collections of the 20th century. Charles E. applied the same principles for ergonomic comfort and elegant visual profile as he used for his famous Aluminum Group Chairs. This sophisticated piece is an ideal addition to any business or home office setting and its high backrest with padded cushions provides a truly comfortable seating experience. The durable design has an adjustable height as well as a swivel and tilt function. The star based shape has castors, which adds to the efficiency of the piece.
FurnishPlus produces this popular office chair in quality top grain and aniline leather in a range of colors. The structure is supported by a star shaped aluminum base.
Details:
Impressive luxury design from 1969
The chair has a locking tilt and a swivel function and is height adjustable
Chair is upholstered with top grain and aniline leather
highly polished aluminum base and arms
The foam cushions are PU injected and is wrapped in Dacron
The pneumatic height adjustment will enable you to adjust height conveniently
This item is not manufactured by or affiliated with the original designer(s) and associated parties.
Dimensions: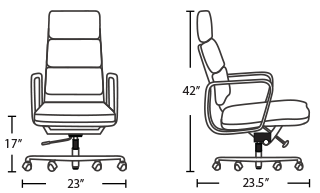 W=23″ x D=23.5″ x H=42″
Seating Height=17″
* All measurements are approximations.