Description
Description:
The LCW (Lounge Chair Wood) is one of Charles and Ray E.' first designs produced in 1946. As a piece created during the war, it comprises practicality and efficiency which were key themes of the era. The design combines an artistic, yet reliable base frame and a backrest that follow the body line for maximum comfort. E. and his wife, design partner Ray focused on experimenting with different wood molding techniques, which resulted in their impressive, revolutionary furniture collection.
FurnishPlus produces the same molded plywood seat as the DCW, on a lower base. The LCW is available in different veneer to match your decor.
Details:
The chair is made of solid piece of wood in an amazing Natural finish.
The chairs are offered in your choice of rosewood, natural oak, walnut, and black
To make the legs of chair more sustainable and durable we are using 8 layers of plywood veneer
The chair is formed from 5 handle plywood which makes the chair comfier and protect against cracking and delamination
Rubber shock mounts which are located at backrest and bottom of the seat to absorb pressure and make the chair comfier
This item is not manufactured by or affiliated with the original designer(s) and associated parties.
Dimensions: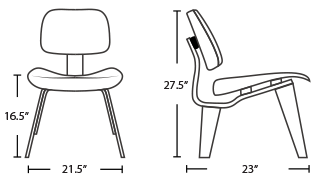 W=21.5″ x D=23″ x H=27.5″
Seating Height=16.5″
* All measurements are approximations.
Show all details