Description
Description:
The linear design of Florence Knoll's Armchair has a strong visual presence. Designed in 1954, the high-quality construction provides not only an elegant look but also great seating comfort. The American-born designer and architect put emphasis mainly on functionality, creating pieces to meet the needs she believed furniture must resolve. Her designs are created in order to relate to the architecture of the space and integrate with the environment they are placed in. The sleek silhouette of Knoll's Armchair provides a sophisticated accent in the office or home.
FurnishPlus produces this popular classic in cashmere, top grain, aniline, and vintage leather upholstery in a range of colors with the button detail of the original. The legs are made from stainless steel.
Details:
The inner frame of this sofa is constructed using solid wood
The sofa is supported by a polished stainless Steel sub-frame
The sofa is fully upholstered in the front, back, top and sides
High-density CA-117 cushioning
Floor protective pads included
Corner stainless steel base joints are fully welded, ground, sealed and sanded
The sofa back and seat are comprised of thick, tufted cushions for maximum comfort3
This item is not manufactured by or affiliated with the original designer(s) and associated parties.
Dimensions: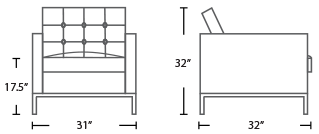 W=31″ x D=32″ x H=32″
Seating Height=17.5″
* All measurements are approximations.
Show all details