Description:
Finn Juhl 45 Lounge Chair's Story:
Furnish Concept Plus has introduced the Finn Juhl 45 Chair from Origins. It is relaxed, as well as sophisticated. You can now relax in this modern and luxurious piece of furniture while infusing your home with a nature-inspired style. This contemporary looking armchair is outlined by a solid wooden frame that has sumptuous curves. These curves will remind you of the fluidity and crispness of nature. However, it also has clean lines which reflect the modern design. It is not only stylish, but also enough functional.  It has quality crafted the wooden frame to make sure that the replica Finn Juhl 45 Chair is stable and long lasting. It has padded seat that is topped with a plush cushion. This has been incorporated to provide superior comfort. The curved and cushion backseat offers support by cradling your back. It has been designed to suit individuals taste and can complement various color palettes and design schemes. You will be able to avail the Finn Juhl45 Chair with a combination of your type of wood and color finish. It will also compliment the color of your upholstery.
Details:
This reproduction of Finn Juhl 45 chair from Furnish Concept Plus has the following features.
The sculptural yet cozy design gives your home a classical elegance.
The solid wood frame makes it stable and durable.
Clean modern lines when combined with sculptural curves and accents impart an ideal balance of contemporary and transitional design.
The frames are available in the wood type and finish of your choice.
It has slightly reclined seats for relaxation.
It has soft curved and cushioned back seat which will provide optimum support and comfort.
It's upholstered in your choice of leather color or fabric offers additional comfort.
The sculpted armrests extend a modern artistry and extra support.
Dimension Width: 26.6 inch, Depth: 30 inch, Height: 32.7 inch.
This reproduction from Furnish Concept Plus isn't affiliated or manufactured with the original designers and also isn't associated with them.
Dimensions: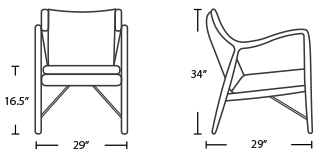 W=29″ x D=29″ x H=34″ x SH=16.5″