Description
Description:
The Iconic Charles E. RAR Rocking Chair has a timeless appeal with the simplicity and functionality of its design structure. Initially created for the 'Low-Cost Furniture Design' organized by the New York Museum of Modern Art, the impressive chair comprises a smooth one-piece seating shell and a contrasting base of the designer's emblematic entwined wire rods design. The chair complies with all essentials for comfort, providing a relaxing rocking experience.
FurnishPlus produce the E. RAR Rocking Chair with quality plastic shell in a range of vibrant and neutral colors. The sturdy base joins a metal rod construction with beech runners.
Details:
Molded polypropylene seat
Perfect nursery chair from 1948
Stainless steel wire base
Available in various colors
This item is not manufactured by or affiliated with the original designer(s) and associated parties.
Dimensions: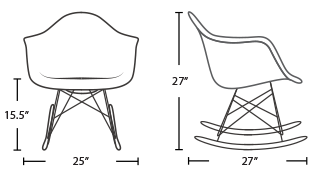 W=25″ x D=27″ x H=27″
Seating Height=15.5″
* All measurements are approximations.
Show all details