Description
Description:
Known as the Eiffel Chair, the DSR (Dining Height Side Chair Rod Base) is one of Charles E.'s most popular classic designs, characterized by its smooth lines, contrasted with the detailed rod design of the legs. The DSR was created in 1948 and it was the first industrially manufactured plastic chair. The piece comprises an organically shaped bowl seat supported by a welded wire base – a recognizable feature of E.'s work. The high-back structure provides seating comfort as well as an elegant visual profile.
FurnishPlus produces the DSR Chair in a variety of colors. The four legs are constructed of chrome-plated wires.
Details:
Molded polypropylene seat
Stainless steel base
Signature Eames Eiffel Tower base
Comes in a variety of colours
This item is not manufactured by or affiliated with the original designer(s) and associated parties.
Dimensions: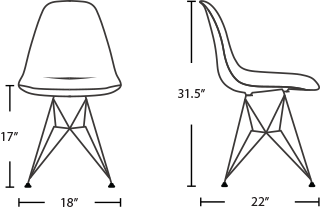 W=18″ x D=22″ x H=31.5″
Seating Height=17″
* All measurements are approximations.
Show all details