Description
Description:
The Charles E. DAR Armchair boasts a stylish organic shell, which is molded to fit the contours of the body. Although this triumph of the design was created over 60 years ago for the "Low-Cost Furniture Design" Competition at the New York Museum of Modern Art, the forward-thinking design is perfectly at home with modern décor. Reminiscent of the Eiffel Tower's construction, the designer's innovative technique of a bent and welded wire base offers maximum stability. The comfortable seat pocket has a waterfall edge, which reduces the pressure on the back of the thighs.
FurnishPlus produces this timeless design with the seat available in high quality plastic in a variety of bright colors. It is supported by reliable steel rods, adding a great detail feature to contrast with the chair's simple, organic design.
Details:
Molded polypropylene seat
Stainless steel wire base
Available in various colors
This item is not manufactured by or affiliated with the original designer(s) and associated parties.
Dimensions: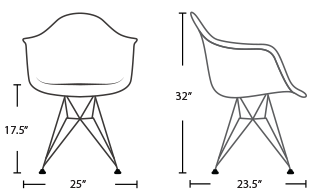 W=25″ x D=23.5″ x H=32″
Seating Height=17.5″
* All measurements are approximations.
Show all details