Description
Description:
Charles E.'s DSW Chair (Dining Height Side Chair Wood) was a winning entry of the Low-Cost Design Competition organized by the New York Museum of Modern Art in 1948. Recognized for its revolutionary design, combining comfort and original style, the DSW has remained a celebrated furniture classic of the 20th century. The ergonomically curved form is perfectly adapted to the shape of the body, and the combination of wood and black metal rods on the base add to the aesthetic value of the design as well as ensuring the stability of the chair.
FurnishPlus produces the DSW with stylish wooden legs, interconnected using metal rods. The seat is made in high-quality polypropylene plastic available in a variety of colors.
Details:
Molded polypropylene seat
Stainless steel connectors
Signature Eames Eiffel Tower base
Comes in a variety of colours
This item is not manufactured by or affiliated with the original designer(s) and associated parties.
Dimensions: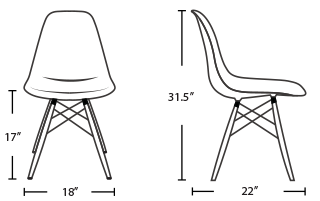 W=18″ x D=22″ x H=31.5″
Seating Height=17″
* All measurements are approximations.
Show all details