Description:
The Cherner Counter Stool's moulded plywood seat utilizes a unique construction of laminated plywood of graduated thickness. The number of plies varies from 15 at the 'throat' of the seat to 5 laminations at the seat's perimeter. This feature, plus the moulding of compound curves, permits a structurally superior design which is sculpted in form and posture supporting. Our products are reproduced to the style of the original design.
Details:
Seat is made of one-piece molded plywood, beech core laminations with face veneers in walnut, rosewood, natural oak, and black
Wood base is made by two pieces laminated beech
Footrest is a continuous 3/8″ steel rod with bright chrome finish
FSC© certified FAS grade wood
This item is not manufactured by or affiliated with the original designer(s) and associated parties.
Dimensions: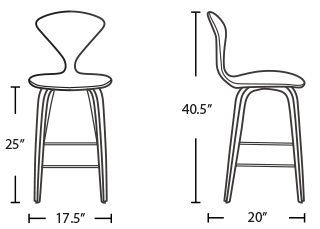 W=17.5″ x D=20″ x H=40.5″
Seating Height=25″
* All measurements are approximations.