Description
Description:
An adaptation of the Bertoia Side Chair, the Wire Bar Stool is part of the 1952 Bertoia chair collection, which also includes the Diamond Chair and the Wire Chair. A sculptor at heart, Bertoia focused on creating a series of chairs that were all made from bended wire rods. As he explained: 'If you look at the chairs, they are mainly made of air, like sculpture. Space passes through them.' The bar stool was an experiment in attempting to bring architectural design elements into business and entertainment, and remains a perfect addition to any sleek bar or sun-kissed terrace.
Details:
THE PRODUCT DETAILS:
Statement design from 1952
Craftsmanship to match the original
A strong and versatile piece
HARRY BERTOIA WIRE BAR STOOL
It may look light and airy, but the innovative Bertoia Wire Bar Stool is a strong and versatile addition to any home or bar, set at the perfect height for entertaining. Its striking design merges sculptural form with practical functionality to great effect. The unique bended metal rod frame is curved for comfort and comes with a removable Italian leather seat pad, available in black. The legs are made from powder-coated iron and fitted with shock absorbers for stability. The chair's distinctive style lends itself to many uses, from elegant dinner parties to casual drinks. It can also be used outside, but should be kept out of the rain and stored indoors overnight.
Dimensions: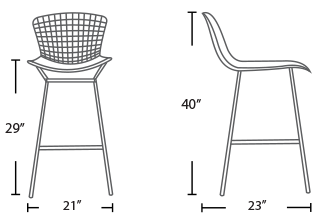 W=21″ x D=23″ x H=40″ x SH=29″
Show all details