Details:
1960s lighting design icon
Hand-sculpted square marble base
Choice of black or white marble
This item is not manufactured by or affiliated with the original designer(s) and associated parties.
Dimensions: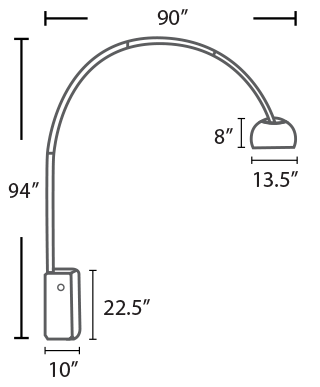 * All measurements are approximations.
Description:
The Arco Lamp is one of the most popular floor lamps ever made. Inspired by the street lamps in Italy, Achille Castiglioni developed this modern classic in 1962, combining the advantages of a floor and a hanging lamp. This way the elegant piece provides direct illumination without the need to fix it to the ceiling, courtesy of its eight-foot long arm. Its functionality and timeless style create a focal point in any interior.
As a work of art, Castiglioni's Arco Lamp is part of the permanent exhibition at the New York Museum of Modern Art.
FurnishPlus produces the base of the Arco Lamp in a quality, hand-carved marble block, available in two colors, and the fixture is held by a sturdy arched carbon steel shaft.