How to use PayBright?
Step 1: Add an item to your cart and choose PayBright at checkout
Step 2: Get set up with PayBright's short application for your purchase 
Step 3: Once approved, choose your payment plan and enjoy your purchase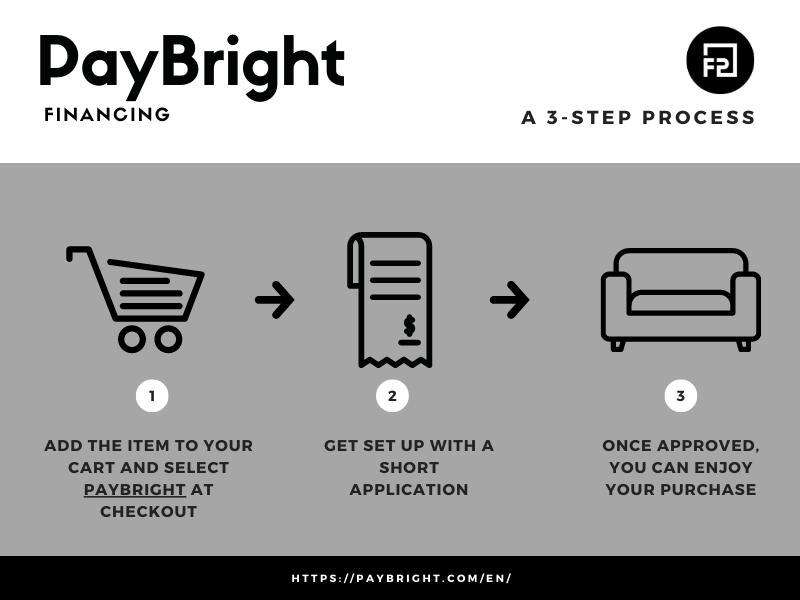 How do I cancel or get a refund from PayBright?
For the entire refund/ return, the full amount of the payment will be returned to your original account. Your PayBright payment plan will be canceled and you will no longer owe any balance.
For partial refund/ return, the purchased amount will be returned to your original account. Your PayBright installment payment continues, and the payment plan changes due to the owed balance, please contact PayBright for more information.
Note that there will be a 10-dollar penalty fee applied for every failed payment.
What methods of payment are accepted?
Once approved, you will set up your payment method with PayBright and accept the terms of your payment plan. Furnish Plus accepts PayBright payment via the following methods:
Visa Debit/ Visa Credit

MasterCard Debit / Mastercard Credit
Furnish Plus will not accept these payments with PayBright
AMEX

Capital One Credit Card

Online Bill Payment

E-Transfers

PayPal

Pre-paid Credit Card

Cheques in the mail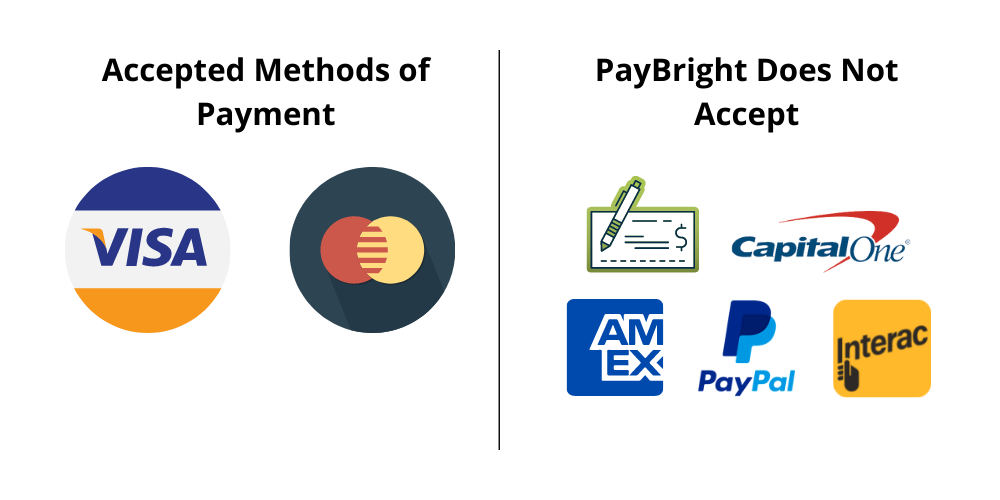 When do I need to pay my scheduled payments?
Equal Monthly Payment Plans start after PayBright receives your first payment. Your next due payment will be on the same day of each month for the rest of the term.
You can look at your payment schedule at View Payment Schedule on PayBright Portal.
Can I set up credit card autopay for PayBright?
In order to avoid the penalty fees for late payments, you can set up your pre-authorized plan with your bank chequing account. 
On PayBright, select your payment method and click "Update". You will have the option to link a credit card or a bank account.
Can I pay my balance sooner than scheduled?
Your payment plan is repayable in full at any time, with no additional fee. Your extra payment will count towards your principal balance and will change the term of your payment plan, as well as your final payment balance. This is available only after your first scheduled payment has been received
You can choose this option on the PayBright terminal, click "Payment Plan", and then choose either make a partial prepayment or pay off your payment plan in full. 
For more information, visit: https://paybright.com/en/how-it-works