Earlier this week, we had a chance to look further into Arne Jacobson's most iconic work, the Egg Chair, Swan Chair, and Drop Chair. Today, let Furnish Plus get you acquainted with another designer, who has created the renowned chair that has brought about a mild fever on social media, the Wassily Chair.
Born in Pécs, Hungary in 1902, Marcel Breuer is a Hungarian architect who is famous for his work in architecture. He soon was recognized as one of the most influential people that has changed the 20th century's aesthetic and artistic thinking. 
Neutered and grew with the Bauhaus school of design, the name Marcel is usually associated with the use of tubular frames. His wild success had put last century's modernism to commonality. To name some of his famous structures: Rufus Stillman House I, Litchfield, Connecticut (1950), Ariston Club (1948) – Mar del Plata, Argentina, UNESCO Headquarters, Paris, France (1958), St. John's Abbey Church at the campus of Saint John's University, 1961
In the field of fashion and design, we cannot help but mention the Wassily Chair, which is featured in many newspapers and campaigns. Inspired by the bicycle frames (and we all looked at our bicycle frames a couple of hundred times and never figured out how to make a masterpiece out of it – we know!). The chair was named after Marcel's Russian abstract impressionist artist Wassily Kandinsky (1866-1944), a mentor of his at the Bauhaus academy. 
          "At that time I was rather idealistic. I was 23 years old. I made friends with a young architect, and I bought my first bicycle. I learned to ride the bicycle and talked to this young fellow and told him that the bicycle seems to be a perfect production because it hasn't changed in the last twenty, thirty years. It is still the original bicycle form. He said, "Did you ever see how they make those parts? How do they bend those handlebars? You would be interested because they bend those steel tubes like macaroni."
          This somehow remained in my mind, and I started to think about steel tubes that are bent into frames—probably that is the material you could use for an elastic and transparent chair. Typically, I was very much engaged with the transparency of the form."
Breuer, 1968
Claimed by Marcel himself, the chair was his most extreme work both in outward appearance and in the use of materials; while it was the least artistic, the most logical, the least 'cozy' and the most mechanical The aesthetic is undeniably functional, the high-quality leather compensates with a luxury note.  And for many at first, the chair looks psychologically uncomfortable but ergonomically, the chair definitely provides a decent length of sitting.  The horizontal-structured leather design provides a certain amount of elasticity that frees up the movement of the occupant.  The Wassily chair also suits a wide range of body sizes. However, its design, that is being admitted, the steep angle leaves seater with the motion of leaning backward, which tends to cause pains for the neck and head. 
Specification-wise, the Wassily Chair is designed with high-quality Italian leather, which is available in Top Grain and Aniline Leather straps to offer an unmatched rather masculine, rough overture. Following are the details of the Wassily Chair that Furnish Plus is proud to present to our beloved customers: 
Frame: Polished chrome steel tube finish previous to flaking and chipping.

Stitch type: Double stitch lines at all stress points. 

Seat: Incline at 20 degrees for extensive use seating comfort. 

Legs: Four plastic glides click into the pre-drilled opening on the base of the chair.

Safety information: Each material is non-harmful, resistant to fire, and child friendly.
In the market, an original Wassily Chair is desired at $30,000. A replica of this tends to range from thousands of dollars, depending on different materials. Furnish Plus is currently having a promotion for this, for more information, please check us out at: https://furnishplus.ca/product/wassily-chair-marcel-breuer/
The Wassily fits right into this collected room that has touches of tribal, acrylic, mid-century modern, and contemporary pieces.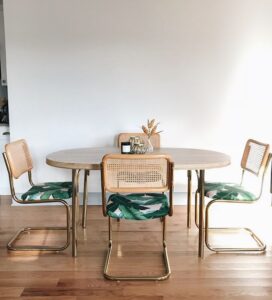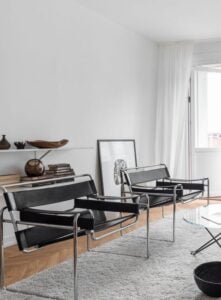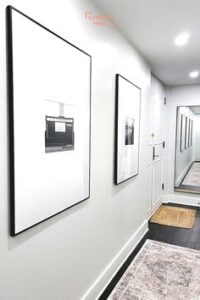 Thought you have seen all of it? Let Furnish Plus overwhelm you one last time with another masterpiece of Breuer – The Cesca Chair
We know what you are thinking – "Wait, where is the back support for this chair? Are we going to fall backward?". The chair was brilliantly exploited with the cantilevered form that opens up to all possibilities, which compensates for its fragile look. The iconic C shape from the tubular gives adequate support, making it almost float in the air. 
In honor of Breuer for his endless contribution to the design world, in the 1950s, with Breuer's permission himself, Dino Gavina, a famous furniture manufacturer in Foligno, Italy, changed its original name to Cesca chair, which is short for Breuer's adopted daughter Francesca. And ever since, the Cesca Chair has become one of the most recognizable chairs representing the mid-century modern style. 
The Cesca Chair graces any background with its unique, insipid, restraint to its design — magnitude balanced by the seamless curves, its most contrasting trait – the wickering canning tones down the rather cold steel look – a common attribution of the mid-century modern characteristics, gives it more approachable vibes that would suit multiple settings, from your cozy home to more professional setting such as office or exhibition stores.  
We are happy to carry this nice and sturdy chair in two versions: Cesca Side Chair and Cesca Armchair in different leg materials. 
"Obviously I couldn't afford the Cesca chair original (cuz they're like 10k) but this Cesca chair replica from Furnish is absolutely worth every penny you're spending for. I have 4 of them for my kitchen island and the neutral color lights up the whole space. Amazing products!"
Linda K – April 26, 2021
Seat and Back: Solid ash wood with a clear natural coating woven cane.

Frame: Polished #304-grade stainless steel tubule with your choice of finish.

Safety information: Each material is non-harmful, resistant to fire, and child friendly.
For more information about the products, please check out our website at: https://furnishplus.ca/