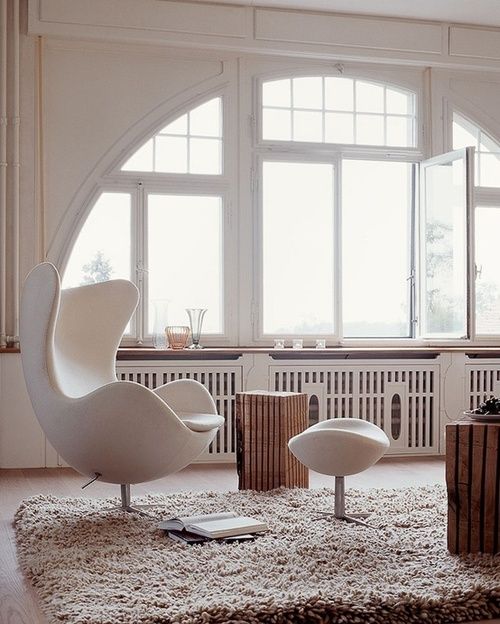 Here is the link to our Egg Chair to choice your fabric and leather .
Egg chair reproduction material:
Ah! The Egg Chair reproduction designed by Arne Jacobsen, a simple chair, with such a complicated personality. With its sumptuous, expansive lines and curves in all the right places; it's hard not to want this piece. For completing the space that might be missing the perfect something, to pull the room together or make it pop!
Egg chair reproduction is it classic or modern:
Only with a design like our Egg Chair Reproduction could you use the words "classic" and "modern" in the same sentence, making it a perfect addition to practically any space or décor. Our Egg Chair Replica is so versatile and comes in so very many colors and textures it will not disappoint when it comes to working your space.
Egg chair reproduction cozy:
If you have a large room, with spacious ceilings, consider the tall, broad classic Egg Chair Reproduction. With its classic "winged" design it creates a cozy and private feeling, perfect for curling up with a book and nice cup of earl grey. Have less room to work with? Our Egg Chair Reproduction would be perfect for a sitting room, throw a couple of these in there, a nice clean table in between, a stand lamp to provide you with accent lighting and you have a beautiful space for conversing.
Egg chair reproduction by Furnish Plus comes with a variety of colours:
Worried the Egg Chair Reproduction won't go with your current style? Don't be! With the different colors and covering of the Egg Chair you can't go wrong. Have a folksy, country type style? Cow hide! Have a more modern style or follow the latest trends? Deep blue or Azure Fabric! Maybe you like the clean uncluttered modernity of he early 2000s? Black or Grey leather!
Whatever your style, Our Egg Chair Replica has your back!