Eero Arnio – Ball Chair 
When mentioning the name Eero Arnio, people cannot help thinking about his amazing plastic and fiberglass creations: Passtilli, Puppy, Pony,…and definitely the famous BALL CHAIR. 
His out of the box ideology – "A chair is a chair,… but a seat does not necessarily have to be a chair." has enabled him unlimited access to interior design, that most of us in the 21st century might think his works are meant from the years of 2050s.
During an interview with Ignant, Eero mentioned: "A chair is an object to be used. I always start with the function of the chair" that explains why most of his designs, regardless of the funny look, are actually very comfortable to sit on. "It has to be comfortable to sit on and look good. It's easy to design a chair that is comfortable but very ugly. That's the biggest problem – not ergonomics. At this stage in my career, I can do ergonomics very well!" – giggling the designer.
The now-iconic design BALL CHAIR—a fiberglass buttressed polyester ball—has featured in countless Hollywood movies and interior projects, and graced its presence in some of the world's most prestigious museums that later on, The New York Times praised the chair as one of "the most comfortable forms to hold the human body". Other designs granted him success with numerous award-winning prizes, particularly for the Pastil, Polaris, Tomato, and Pony chairs.
Life of Eero Arnio
Born in Helsinki, he attended the Institute of Industrial Arts before kicking off his own interior and industrial design office in the early 60s. For his early designs, such as his basket chair Jattujakkare, Aarnio used natural materials. His work continued on with The Bubble Chair (1968), which was made by blowing acrylic through a steel ring to create a transparent sphere that is then suspended from the ceiling. In 1968, Aarnio won the American Industrial Design Award for his Plastil Chair, which is a curved, organic design made of fiberglass that floats on water. Many of his designs are humorous and playful, such as the Pony Chair and The Tipi, which is a chair made in the shape of a bird. Combining the Scandinavian tradition of simplicity with the innovative use of materials, Aarnio creates furniture designs that are sculptural yet functional. His designs became iconic in popular culture during the 1960s, and his work is held in several museum collections, such as the Victoria and Albert Museum in London, the Vitra Design Museum in Weil am Rhein, and the Museum of Modern Art in New York.
Now in his 80s, the wizarding interior architect hasn't stopped his wonders as he continues working from the home and studio he designed himself in the 1980s. Located lakeside in the small town of Veikkola, a half-hour drive from Helsinki, the light-flooded space—and, being in Finland, its accompanying sauna—is an oasis of tranquillity in which we were warmly welcomed by Aarnio and his family. Over coffee and cake, we got to know the gregarious luminary behind some of the 20th century's most innovative seating designs – which are also currently the subjects of an exhibition at the Design Museum Helsinki until September 25. 
BALL CHAIR – A creation from toilet paper
Looking at all the work throughout Eero's career, we can easily see the fun character shadowing on every single design as the designer emphasized that children should be allowed to play and get creative ideas from it. His nurtured child-side is evident in the way he moves, his hands dancing and his whole self seeming to hop about the multi-level house he designed and built – with his wife of 60 years, Pirkko.
The story of the Ball Chair when he was a year old and, lying in his pram on the balcony of the family apartment in Helsinki, saw the blue sky above encapsulated in a circle. The colorful characters in Disney's Snow White and the Seven Dwarfs, which he saw at the age of six in 1938, also left a deep impression. The design evolved when he applied to art school and they required a picture of someone reading in a chair – he was not good at drawing figures and features so he put the person behind a huge newspaper with a red circle around them.
Later on in his adult years, after deciding to put the sketches into reality, he and Prikko used his father in law workroom to begin. They arced plywood to make a ball-like shape and covered the frame with a water glass or sodium silicate-soaked paper that was left to dry.
The week after he visited the office to take a look at his work and found that it was completely crumpled. They decided to fix it with water glass soaked newspaper and even a little toilet paper. The next version was so good that it was a success with fiberglass. The ball became extremely resilient. He sent the frame to Helsinki to the upholsterer that did all of the upholstery for Artek's furniture. The designer, later on, painted the chair red and still kept it in his foyer until these days only the red has discolored to white.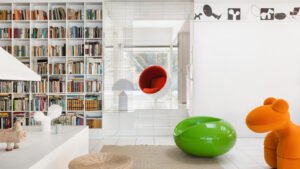 His exhibition at the Helsinki Design Museum is beautifully displayed, with a sparse backdrop and platforms that move exhibits around visitors just as visitors move around them. Aarnio holds up his latest prototype – a small, simple car with a hoop at the front for when a child gets tired and a rope can be tied to it to pull them along – always seeing things from a young perspective.
The Ball Chair was exhibited in Cologne in 1966, he received orders from over 30 countries. Bing Crosby and Princess Grace of Monaco to name some of the famous people on earth who used it in their homes.
The BALL CHAIR is now available at our website with 9 cashmere color options: https://furnishplus.ca/product/ball-chair-eero-aarnio/